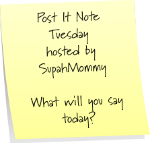 Why bother wasting your breath, spewing verbalness... when you can simply sum it all up in one neat n tidy little post it note.
Post it Notes are verbally versatile and can be used for all sorts of fun things. There are no rules. They can be fun, lighthearted, serious, notes to self, notes to others, complaints or just some to do lists. Get creative.
Use this link to make your own sticky notes.
POST IT NOTES
Create your own post it note post.
Save the Direct URL.
Come back and past the URL into the MR. Linky
on this page
.
Tonight I am leaving work early and Boo Boo La La and I will go to visit the newest Alpha Omicron Pi - Tau Chapter Legacy...
Now go forth and post-it the land...