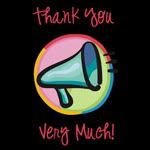 Today I decided to play along with
KMama
and get some needed therapy!
To the quiz on Glo-Bus: stop being so difficult, Mommy needs to get a 90 on you or else! Thank you very much!
To YouTube - LOAD Mommy's video for Dance Yer Bloggy Off already! Thank you very much!
To MN Drivers - it is RAIN deal with it. Thank you very much!
To Boo Boo La La - stop telling Mommy "I WON'T BE YOUR DAUGHTER ANYMORE!" you are four, not fourteen...thankyouverymuch!
To T-Bone - I am WAITING....ceiling, make a plan and share it with me. Thank you VERY much!
(you will get special time with Mommy when it is all over, thankyouveryMUCH!)
School & Final paper - FINISH YOURSELF. Mommy is tired and has to teach Sunday School this week too! Thank YOU very much!
ahhhhh, now I feel better.