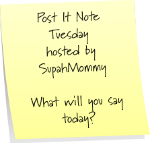 invite you to participate in
POST-IT TUESDAY!
Visit this blog for all the details and play along with us - the fun part is you meet new friends. And even better for me today is I can use this to sticky the universe for an
old friend
who needs your thoughts, prayers, and good karma in general.
Leaving no stone unturned as a friend
begins his journey with a new kidney later today
.