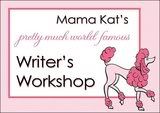 So I signed up to get the prompts from Mama Kat - and I really wanted to play, but I forgot last week - and this week...I was not inspired by any of the prompts.
le sigh
So I went to
Mama Kat's
site and pulled up all the old prompts and chose to write about....
Describe the worst diet you ever put yourself on.
Early on in my marriage I decided to drop a few pounds - I had gained that "happy weight" and it was not helping me fit into my cute work clothing and I was sick of using the tricks.
You know
the tricks,
right? Use a safety pin to keep your pants and skirts together at the waist and wear a loooooooong shirt or sweater over it.
I know, not pretty.
So I looked around the internet for a "diet" - really I was looking out for a quick fix for the eating and drinking I had done over the preparations, parties, wedding and honeymoon.
Ugh.
(side note: I wish I was that "fat" weight now! double UGH!)
I came up with
SCAN DIET
.
How bad could it be? It was developed in Scandinavia after all.
Those people are smart, right?
The Scandinavians are sensible, right? I mean the United Nations was their idea!!!
So I start the diet after buying the expensive powders, THIS should have been my first clue.
Then I read up and the first TWELVE weeks I am supposed to drink three to four "shakes" a day and fruits and vegetables. NO MEAT.
The "shake" provided all the protien I was going to need. (ummm, riiiiight.)
Now let me say this, I AM a fan of soy protien and thought this was a fine plan at the time. The problem is that it just is not sustainable to only drink "shakes" and eat fruits and veggies over that kind of time frame.
I mean no grains, no bread, no protein outside of the "shakes".
It just is not realistic.
And my BODY knew this.
I was going along just fine. I love fruit and veggies so I was okay with it all in the front of my brain...then one night...I had a dream;
I was tearing apart and GNAWING bloody red warm meat with my bare hands.
AND I LIKED IT - Nay, LOVED IT!
Somewhere deep down inside my body was CRYING out for more nutrients than I was getting from these "shakes" and despite the fact I had lost 24lbs in eight weeks...
The next day I had a steak stir fry.
And I savored every last juicy drippity-drop of that meat.
(It was tough to research for this story because basically - Scan Diet does not seem to exist any longer. I believe they have replaced this with a new product called
Nutrilett
.)
Now enjoy the battle over this meat.