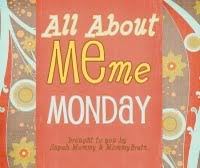 So the deal is I am to name FIVE television shows that I cannot be interrupted for...yeah, right? Like when do I get to watch an entire show without being interrupted at least once? Maybe that happens, but not very often...
That said - here are the shows I love:
Top Chef - it is the BEST show. I love how it stays nasty when the food is horrible. #1 spot last year would have been Project Runway, but something has happend to them over their at Lifetime....I just cannot put my finger on it yet.
Models of the Runway is the most delightful part of Project Runway this season!
Real Housewives of New York - they are my favorite. ATL and Jersey scare me.
Medium - OH.HOW.I.LOVE.IT. I have to catch up though - I miss it sometimes cuz it kept moving and now it is on a new network???
Rachel Zoe Project - just totally good dysfunctional fun.
I like some network shows - like How I Met your Mother, 30 Rock, Kath and Kim was funny, I used to like Grey's but they jumped the shark for me...I just don't have time to keep up & I find if I like a show - they cancel it. Examples here include Once & Again and Lipstick Jungle. I also secretly watch Gene Simmons Family Jewels - it is SO not reality! But it is fun.
Enjoy and join the fun begun by
MommyBrain
and
SupahMommy!
Just click on the button above for the details!