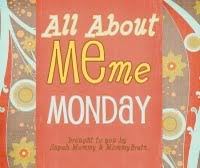 So the idea today is to share music that moves you - or used to...create a
Soundtrack of Your Life
At least according to
SupahMommy
and
Mommybrain
- get the link and play along if you like...
Mine? Pretty eclectic, I think...
When I was five and had my first AM/FM Radio, Raggedy Ann & Andy thank you! I listend to the country stations late at night because the songs had stories...
Johnny Cash was my favorite, still is...
As I grew older I discovered Rock N' Roll and well - just about lived for the Rolling Stones...I think Johnny is okay with that.
By high school I was loving Madonna, The Beastie Boys, etc. But EVERYONE told me I was a dead ringer for Belinda Carlisle...and I loved singing to this song LOUD. I could even hit the high parts back then.
Then, in college I felt like this all the time. I went through boyfriends as fast as kleenex I used when I would listen to this song.
After I dropped out of college I worked in radio - early on I was at a Top40 station and all I can recall of that time was Ace Of Base. ;) And now I still love them and Abba too. ;)
I know this is getting long - but I AM OLD, remember?
Speaking of getting old I love Mary J. Blige because this song reminds me to cut out what does not help me get through the day...get rid of the drama, everyone has theirs and no one gets more than they can handle in their life.
This song reminds me of why I have my new life...I mean it may seem odd; but I lurve me some EverClear.
When I work out this is in my head...
And of course my life would not be complete without hearing the Police blaring in the recesses of my mind...today this song, though I know it is about obsession, reminds me of my daughter. I cry thinking that someday she will be a woman with her own family and reminds me I must cherish my time with her now as best as I can. I know sometimes I fail, but I pick up and go on with a hug and a kiss.
Enjoy!
Love, MommyLisa