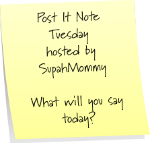 SupahMommy
and
MommyBrain
say: Copy that button UP TOP THERE(on Supah's site)..and stick it somewhere on your post to help link others back to us!
Go
here
and post your link on the MR. Linky.
Visit the two people above you and one below if you can and give them some comment love. This is how you grow your blog and get new followers.
If you get a comment from someone participating... be sure to return the favor!
++++++++++++++++++++++++++++++++++++++++++++++++++++++
Today I did not have ROOM for what I needed to say on one little post-it,
so I made my own special Halloween Post-It: